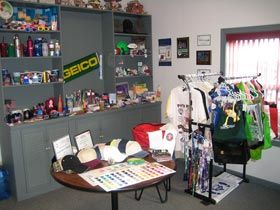 When it comes to business communications services, Kerrin Graphics & Printing has got it covered. We can provide virtually any product or service imaginable to communicate with your clients, employees, stockholders, or vendors.
We're experts at corporate identity pieces. But that's only the beginning. To learn more about the many products and services we offer, see below for a comprehensive listing.
Products
We have three methods for decorating apparel such as t-shirts, jackets and hats: Embroidery, screen printing and heat transfers. We also can decorate promotional items including blankets, tote bags, etc. -- all in-house! Click here to go to our apparel site where you can browse for items.

Click here to go to our online apparel site where you can browse for any type of imprintable apparel. Once there, you can create a design that suits you. If you would rather leave that to us, just give us a call and tell us what you are looking for.

Browse a huge selection of cards by clicking this link. When you find "the one," you can order it right there. There is even a category for using your photo on them!

The right promotional item will keep your company's name in front of your customers for weeks, months or even years. To help you find the perfect item, we have set up a web site just for promo items—everything from key chains and pens to hats, golf bags and much, much more.

Click this link to browse our huge selection of promotional items and find the item that's right for you. We'll brand it with your company's logo and make sure you receive it on time and just as you ordered.
Services